Making Your Own Will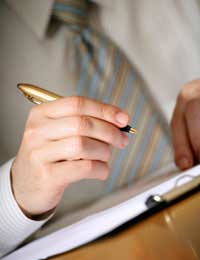 A will is a vitally important document. It can be the key element in the safeguarding of your assets, and in ensuring that your dependants' futures are secured. As a result, the writing of this document is a process to which one should devote some considerable attention.
A worrying proportion of Britons do not have a Will, and one of the major reasons for failing to write one is the generally-accepted idea that having a professional put one together is expensive to the point of being unaffordable. However, while this puts off many people from writing a will altogether, some enterprising individuals instead choose to carry out the process themselves.
Pros and Cons
Writing your own will is certainly not the most highly recommended course of action. There are a fairly considerable number of affordable alternatives, including many free schemes if you are a pensioner. However, aside from the cost, you should always think of the importance of the document. Your will is likely to determine almost entirely the disbursement of your estate after your death, and could also include arrangements for things like guardianship of your children. Similarly, most individuals lack the legal knowledge to carry out tasks like
Establishing A Trust
, which can be vital when looking to mitigate your
Inheritance Tax Liabilities
.
Finally, there is a legally established form which a will should take. In order to minimise the possibility of confusion, or, in extreme cases, the will being declared void, the document should adhere to theses standards. Again, the vast majority of individuals do not have the knowledge to ensure that this happens.
If, however, you do choose to write your own will, there are numerous sources of help. The most popular of these is the will-writing packs that can be found in many stationers. These can help enormously in ensuring that the document adheres to the relevant legal standards, which is a vitally important consideration. These packs should guide you through the process step-by-step.
Similarly, there are a number of online will-writing services that can be accessed for a small fee. You should be careful when choosing such a service, as some are more reliable than others. Any British legal trade association should be able to give you some guidance as to which of these is a safe bet.
Helpful Hints
If you are intent on carrying out the entire process yourself, it will almost certainly help to begin by drawing up a simple table. This table should have three columns; one should be headed Asset, another Estimated Value, and the third Intentions After Death. Your table should have a series of rows, the titles of which may vary slightly depending on the individual. However, a basic table would include House, Cash, Personal Effects, Property, Shares etc. Filling in each of the boxes in this table will give you a clear idea of your assets, and should make the process of writing the document simpler.
You should also consider establishing a trust or series of trusts, if you think that your assets will have a total value that exceeds the Inheritance Tax Nil-Rate Band. This is covered in more detail elsewhere on this site, and should be given serious thought if you wish to minimise the tax bill that is passed onto your beneficiaries.
Finally, there are some very important rules regarding signatories of a will. The document must be signed by the testator (the individual who is making the will), unless they are physically unable to do so, in which case a signatory may be appointed. The signature must also be witnessed by two other people. These witnesses must sign and date the document, and give their address. This must happen at the same time as the signing by the testator. It is also vital to note that the witnesses may not also be beneficiaries; if this occurs, then the part of the will in which assets are bequeathed to the signatories will be considered void.
You might also like...
My parents made a will before they went into care. They left their estate equally to their two children (me and my brother). I am married with 3 children. He has a longtime girlfriend. If I die first before my parents, does their entire estate go to my brother or does my wife (and children) get my share? Cheers Willco
Willco
- 22-Jun-11 @ 12:44 AM