How Will My Second Job Be Taxed?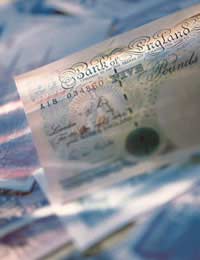 Q.
If you have two jobs, does the second job get taxed more at all, even if the salary of both jobs combined is less than 34k?
(Mr M.Y., 16 March 2011)
A.
Many people seem to think that second jobs are taxed at a higher rate. We have previously received questions regarding the tax treatment of a part-time job if the worker is drawing a private pension (see Is It Worth Taking a Part-Time Job On A Pension?), and much the same principle applies in your case. There is no separate rate of tax for a second job, although this is likely to affect your non-taxable personal allowances, and your tax code.
Non-taxable Personal Allowance
In the first instance, it is important to note that you have one non-taxable personal allowance per year, regardless of the number of jobs you have. For the 2018-19 tax year, this is set at £11,850 if you are under 65 years old. This non-taxable allowance will apply to just one of your jobs. As such, you will probably receive your allowance on your first job, meaning that the first £11,850 earned from this source will be free from tax. However, once you have used that allowance, all other income will be taxed at the normal rate.
Earnings Threshold
You have mentioned that your combined salary is less than £34,000. For the 2018-19 tax year, the earnings threshold for the basic tax bracket is £46,351. As such, if your total income is less than this, it will all attract income tax at a rate of 20% for this tax year. You should also remember that you will almost certainly be liable for National Insurance Contributions, which will be paid at a rate of 12% for annual earnings between £8,424 and £46,350.
Finally, you are likely to find that your tax code changes if you take on a second job. If you will continue to be a basic rate tax payer, your code will change to BR for 'basic rate', and will continue to be followed by a number that outlines the way in which your income is taxed. For more information on understanding your tax code, you may wish to read What Is My Tax Code?
You might also like...
Hi, I am earning approx £9,000paworking in one job.I have been offered a second job where I will earn £3,400pa so it takes me over the tax free allowance of £11,850. Will I pay 20% tax on all of the second job earnings or just the amount it takes me over ie: £550? Thank you
Whitely
- 19-Mar-19 @ 10:48 AM
If i work 16.2.5 hours a week then in a second job do 10 hours a week how much tax will a pay
Leroy
- 13-Mar-19 @ 5:20 PM
Hi I work part time 22.5 hrs week and earn £17,500 year. I have just been offered extra work of 3 - 6 hours a month earning between £50 and £100 per month.....this is not regular work and as and when I am needed....does this need to be declared?
Fire
- 13-Feb-19 @ 9:37 PM
i currently work 10 hors in supermarket been offered a job at care home 30 hours a week how / what will happen to taxhow does it wrk
shelle
- 23-Jan-19 @ 10:20 PM
Hi I have a full time job and get 16,500 a year but thinking of getting a second job that I get 5,280 a month how much tax would I pay on my second job
Wild child
- 21-Jan-19 @ 5:16 PM
My daughter works as a graphic designer and does freelance "on the side". She earns £25000 a year from her actual job but less than £1000 from her freelance work. Does she need to declare her freelance income to HMRC as we've had mixed advice due to recent tax changes Thanks
Hello from 28 of January i start full time job 48 hour per week. £446 per week. And i want star part time second job 16 hours per week £156.6 how much i pay tax?
Rindass
- 19-Jan-19 @ 6:34 PM
Hi i have a full time job i get 27400 per annual year before tax and if get the scond job as taxi driver earn nothing for myself just get the money for my personal loan and expences do i still have to pay tax thank you
Aram
- 16-Jan-19 @ 3:22 PM
I have a job which I earn 42000 a year but also have a second job which I've earned 10000 how much tax will I pay on this
Hi dear, Recently i got two part time jobs (10/11hours the first job and 25 hours the second one) working in total less than 37 hour per week. Will i get tax on my second job? Will i be affect tax on both jobs? Ps. The annual salary should be a bit more than 12.500£.
frank98
- 22-Dec-18 @ 1:09 AM
Will I still get taxed on my second job if that job's income plus my first one (and any previous one I had that year) amounts to less than my yearly personal allowance (£11850?) If not, what is the right tax code for me? If anyone could help me figure this out it would be of huge help!
Cat
- 13-Dec-18 @ 12:30 PM
Hi, I work full time my annual income is 25,000. I am considering taking a second job, how would this effect the amount of tax I pay.Would it be worth taking a 2 nd job, or would I end up paying more tax.
Lou
- 14-Nov-18 @ 7:42 PM
Hi just need advice on my 2nd jobim currently working full time @37 hrs per week min wageand maybe starting 2nd job @16 hrs per weekwill this affect tax on both jobs and how much will i be paying thanks
Rjrjrj
- 9-Nov-18 @ 6:15 PM
We are currently on working tax credits. My husband earns 8200 and has taken a zero hours job earning roughly 2000 a year . He has been taxed is this right.
Ellie
- 7-Nov-18 @ 6:00 PM
Good afternoon. I have just retired from my career. My annual pension is 26k. I am working part time earning about 4k a year PAYE and I have been offered another part time job earring about 10k on a self employed basis. Am I better going self employed on the 4K job and registering as a company for tax and benefits purposes?
Roddy
- 29-Oct-18 @ 1:41 PM
Hi I have full time job plus extra part time if I will start working for agency tax for one of my extra jobs will b change for 40%?
Sbuj
- 16-Oct-18 @ 7:50 AM
Up until june this year i only had 1 job of 14 hrs a wk at minimum.wage, i now have 3 jobs, the 2nd one being 6.7 hrs a wk @ £8.50 and the 3rd being 10 hrs a wk @ £8.81, i paid £60 tax on my 3rd job last month and £84 tax on my 2nd job, i dont understand why i was deducted for 2 jobs and why that much ? Will it right itself, ? Will i get the tax back ?
Kaz
- 19-Sep-18 @ 9:49 PM
Hi I'm working 22hrs a week at 7.85ph but also signed up to an agency to work as and when, how much tax would I pay
Fifi
- 11-Sep-18 @ 12:24 PM
B - Your Question:
I have two jobs the first is as and when and the second is 12 hrs a week, combined I am nowhere near the tax limit. The first job has my p45, I am paying tax on first job, then get it refunded annually.second job I am down as BR so pay 20% will I get this backannually too?
---
Our Response:
With the BR code from your job, all your income from this job or pension is taxed at the basic rate of 20% (usually used if you've got more than one job or pension). If your earnings have not reached the annual personal tax allowance of £11,850 then you will have this money returned. You may wish to speak to your employer or ring HMRC directly regarding having your tax code changed so that you pay no tax at all.
TheTaxGuide
- 4-Sep-18 @ 1:58 PM
I am employed working 15hrs at £8.20 but get paid monthly and I'm self employed for 2 hrs a week at £8.00 a week. Would I get taxed on this. Ive just registered self employed and have no clue what to do.
Loui
- 3-Sep-18 @ 2:07 PM
I have two jobs the first is as and when and the second is 12 hrs a week, combined I am nowhere near the tax limit. The first job has my p45, I am paying tax on first job, then get it refunded annually....second job I am down as BR so pay 20% will I get this backannually too?
Hello, I am going to be earning two wages for 3 months soon and was wondering how my tax is going to work. My current job pays me £32,000 per year and I am starting a new rolen November which pays £31,000 per year. I will still be paid by my old job until January (personal leave entitlement and a few other entitlements) I was wondering if you could shed any light as to how my tax will be calculated across both incomes for those three months. Any help would really be appreciated. Richard.
RichardW
- 26-Aug-18 @ 9:29 AM
Can my employer find out if I have a second job??
Andy
- 24-Aug-18 @ 3:19 PM
Hi, I am in a job earning 55000/year and thinking of taking a second one part time that will pay 20000/year. Could you please advise on the take home pay from both jobs combined after tax? Pension contribution on job 1 is 3% and at job 2 will be 11%. Thanks EB
Hi I have a part time job that pays £580 every 4 weeks. I have just accepted a second part time job that will pay about £250 per 4 weeks. How much am I likely to be taxed on my second job ? At the moment I don't get taxed on my first job because it is under the allowance. Can someone explain in simple terms what I am likely to have to pay in tax if taking on this second job (slightly thick when it comes to things like this). Thanks.
Amy
- 21-Aug-18 @ 4:52 PM
If your second job is bank do you on my pay more tax when you have done shifts in this second job or every month even if not worked
Gem
- 16-Aug-18 @ 7:12 PM
I have a full time job but don't earn enough to be taxed, I've started a second job just for the summer holidays so will I get taxed loads on that job?
Dannyboi
- 10-Aug-18 @ 9:12 PM
essavivya - Your Question:
Hi, I'm trying to find out if it would be worth taking a second job in the run up to Christmas (yep, I know it's only August!)my 1st job gives me £21,800 a year before tax.my 2nd job if I take it would give me £10,560 a year before tax. how do I know what i'll be paying out? i get easily confused looking at comparison sites and just want a simple breakdown. I don't want to work every weekend for £880 a month just to lose loads on tax.please help.in desperate need of it!
---
Our Response:
You will not pay lots of tax. You will get taxed 20% on the earnings of your second job. Your first job allows for £11,850 of your personal allowance to be taken into consideration before it applies 20% tax.
TheTaxGuide
- 10-Aug-18 @ 11:25 AM
Jak- Your Question:
Hi I have offer of get extra job for two weeks and actually it will be my additional job for this time as I still have my main job. They will pay me in cash so how we can pay a tax on it? And do I still need to pay NIN
---
Our Response:
You would have to declare the money via self-assesment. You would not have to pay NI. You would only pay tax on it if your current earnings are over £11,850.
TheTaxGuide
- 9-Aug-18 @ 1:44 PM
Hi i have offer of get extra job for two weeks and actually it will be my additional job for this time as I still have my main job. They will pay me in cash so how we can pay a tax on it? And do I still need to pay NIN