Finding Professional Tax Planning Advice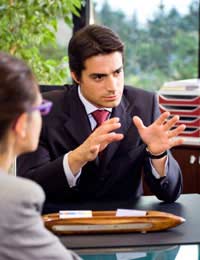 Tax is amongst the most important aspects of an individual's financial life. Regardless of how much you earn, the tax system can significantly impact on your livelihood. Given the potential consequences of mismanaging your tax affairs, it makes sense to seek professional advice. However, it is vitally important that you find a financial advisor who is reputable, and who is sensitive to your needs and concerns.
In the first instance, it is important to note that tax planning advice should only be sought from a known, accredited professional. In Britain, these individuals are known as Independent Financial Advisers, or IFAs. There are a huge number of financial advisers in the UK, but most of these are associated with a company and are therefore trying to sell you something. For example, your bank may offer 'free' financial advice, but you can bet that they will be hoping you leave their office with a new financial product.
How to Get Impartiality
There are two ways to ensure that you are getting truly impartial financial advice. The first is to use an adviser from a charity, such as Age UK or the Citizens Advice Bureau. Some charities offer this advice for free, either to members or to people in certain circumstances. For example, many branches of Help the Aged give free advice to over 65s.
However, this free advice is available to a relatively small section of the population. Aside from this, the only way to get truly independent tax planning advice is to use a fee-based service. These are generally charged on a session-by-session basis, and can be relatively expensive. However, you should consider the potential savings that you will make by taking the advice of a professional tax adviser; it is much like having an accountant on hand to help you minimise your financial liabilities.
What Can an IFA Help Me With?
Tax concerns are not just for the very rich. Individuals with a particularly high net worth are obviously frequently concerned with minimising their tax liabilities in order to ensure that they keep as much of their wealth as possible. However, tax planning applies to everyone. Of particular concern is
Inheritance Tax
. Even with the Chancellor's 2008 announcement that the nil-rate band allowance can be passed between spouses, Inheritance Tax will affect a growing number of households when property prices rise again. Therefore, it is important that you plan ahead to ensure that your liabilities are as low as possible.
Similarly, professional tax planning advice will help you identify any benefits to which you may be entitled. Benefits and tax credits are available for those on low incomes, but are also provided for a wide variety of people in a wide variety of circumstances – Child Benefit is the obvious example. A good IFA will make sure you are aware of any allowances, benefits or credits for which you can apply, and should give you information on how to get them. They should also be able to advise you on gathering the relevant information in order to apply.
There are several websites through which you can find IFAs in your area. Alternatively, the Citizens Advice Bureau should be able to give you details of your local advisers.
You might also like...
pls help me for the finding of professional tax no.
jitu
- 5-Jun-12 @ 1:30 PM