Getting Personal Help With Your Tax Affairs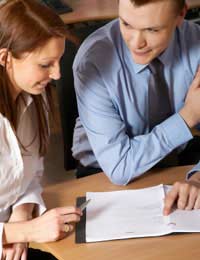 Tax can be a complex matter. Although it affects everyone in one way or another, there are many people who simply do not understand the workings of the British tax system. This website aims to provide a comprehensive overview of the tax issues that will affect you during each stage of your life. But sometimes, general advice is not enough. In particularly complex or unique situations, you may require specific, personal help.
Professional tax advice is expensive. Most people do not have an accountant on retainer, and a 'drop-in' session with a Professional Advisor is beyond the means of the majority of taxpayers. Thankfully, however, personal advice is available for free in a large number of places.
Citizens Advice Bureau
The Citizens Advice Bureau (CAB) is a good first port of call. They will be able to offer information about your specific situation. However, it is worth remembering that many volunteers at the CAB are not trained in tax matters. Instead, they will be able to offer you an overview of information that will be available to you anyway through other channels.
For many people, tax issues arise as a result of an error on the part of your employer. As such, you should always get in touch with your employer if the problem involves tax codes, SIPs or similar. Employers will be able to fix many of your problems, but, depending on their efficiency, you may be forced to wait.
Tax Office
If your problem cannot be solved by your employer, you should take it up with the tax office. Details of your tax office can be found on almost all correspondence from HM Revenue and Customs (HMRC). You should remember that your tax office will not necessarily be anywhere near where you live. As such, if you want face-to-face contact you may wish to consider going to a Tax Enquiry Centre. These centres offer personal advice from trained HMRC employees. Details of your nearest Tax Enquiry Centre can be found on the HMRC website.
HMRC employees pledge to give impartial advice. However, many people are understandably distrustful of the organisation. If you want guaranteed impartial advice, many charities, such as Age UK, will be able to provide tax advice.
Adjudicator's Office
Finally, if you take up a complaint with HMRC and are unhappy with the conclusion, you can take up a case with the Adjudicator's Office. This should be your first port of call if you are unhappy about the service you have received, and particularly about unreasonable delay in processing claims. The Adjudicator's Office should only be contacted once HMRC has been given reasonable chance to respond and to remedy the situation.
Tax affairs are amongst the most important financial matters you will face. If you are unsure about your tax situation, or are worried you are paying too much or too little, you should seek personal advice through one of the channels detailed above.
For more advice and information about your tax dilemmas, read our articles I've Got An HMRC Tax Demand: What Do I Do?, How Do I Claim A Tax Refund? and How Will My Second Job Be Taxed? in this section.
You might also like...
@Ned Kelly - I'm afraid you would have to get a financial advisor to help you with this question as we can't give such direct advice regarding what you should do with your money.
TheTaxGuide
- 11-Feb-15 @ 2:30 PM
Many years ago I was given a significant amount of shares "free" by my Employer under the Employee Profit Share Scheme. Appropriation dates were 1989/90/91 released 1994/95/96. Before selling it would be useful if I was aware of my tax liability, does the Inland revenue accept the market value at that time (which in all cases are well in excess of the current price) which would mean that there is no tax to pay. If this is the case could I put the "loss" on these against gains on others that I may sell in the same year,where I know I will have Capital gains to pay Appreciate your advice
Ned Kelly
- 10-Feb-15 @ 2:02 PM