Defined Benefit Schemes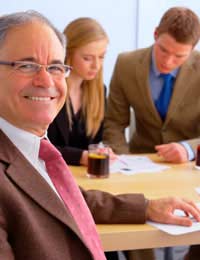 In recent years, there has been something of a panic on the part of employers as they frantically attempt to reduce new employees' access to final salary pension schemes. Under a final salary scheme the pension holder has a good idea of the benefits that they will receive when their pension reaches maturity. As a result of the decline of these schemes more employees are increasingly uncertain about what they will actually receive on retirement.
Certainty
Final salary pensions fall under the umbrella term of defined benefit schemes, in contrast to
Defined Contribution Schemes
, which are investigated in another article in this section. Essentially, a defined benefit pension scheme can be thought of as a pension in which the ultimate benefits that will be made available to the pension holder are clearly 'defined' in the agreed rules of the scheme. This means that from the outset, the pension holder will know what they are getting when their pension reaches maturity (see
Why Join A Pension Scheme
.)
In return for the certainty offered by defined contribution schemes, the pension holder is required to make regular contributions of a certain value. Generally, rather than being a specific monetary figure, this is calculated as a percentage of the individual's wage. A fairly standard defined contribution scheme would require monthly contributions totalling 5% of the pension holder's wage.
In the vast majority of cases, the contributions made by the employee are not sufficient to cover the costs charged by the provider for running the scheme. One of the advantages of a defined benefit scheme, however, is that the responsibility for making up any such deficit rests entirely with the employer as long as the employee has made their full contributions. For this reason, as well as those mentioned above, defined benefit schemes can in principle offer a highly attractive option.
Key variables
Although a final salary pension is indeed a defined benefit scheme, this is not the only example of such a pension. There are still, for example, schemes available that offer benefits calculated with regard to average career earnings. It should be remembered that the contributions that pension holders are required to make are determined by a number of distinct factors. One of the key such factors is the wage of the contributor, closely followed in priority by other variables over which the pension holder has no control. Most notably, this list also includes the average mortality rate and the varying value of the fund as a result of inflation.
Inevitably, there are times at which these variables will have a negative effect on the funds themselves. This has been brought into stark relief in recent years as gradually increasing life expectancies, coupled with a significant reduction in the overall value of accumulated pension funds, has meant that the costs of running defined benefit schemes have spiralled. As a result, many pension holders have been 'priced out' of their pensions as they no longer represent an economically viable option. In turn, this has meant that employers have begun en masse to phase out their defined benefit schemes in favour of their alternative, defined contribution schemes.
You might also like...